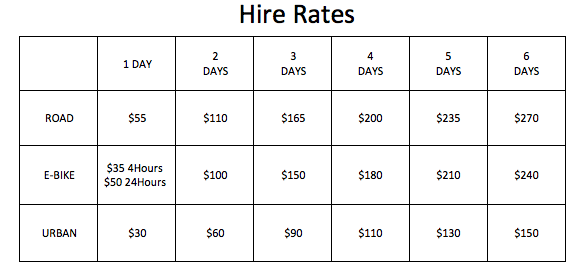 Extras:
-Surfboard Rack: $5 per day
-Helmets: $5 per day
-Pedals: $5 per day
-Lock: Free
-For Longer hire duration please use booking system below for a quote
Premium Bike Hire
We take our bike hire serious, every bike is serviced on a weekly basis to ensure you have a great hire experience when visiting Noosa and the Sunshine Coast. Feeling uncomfortable after a day of hire, drop into the store and we will make adjustments and re-fit you to the bike. We pride our selves in offering a pleasant hire experience. If you are having any issues with the booking portal below, don't hesitate to call us on (07) 5447 4466 and we can guide you through it. Or contact via email on [email protected]
We have an excellent range of carbon road bikes for hire. Please have a look at the bikes below for models and sizes. We can provide a helmet and pedals, but you are required to bring your own shoes. Bookings essential. Prices are approximately: $55 per day for the first 3 days and $35 per day thereafter, $5 per day for pedals if required. Each bike comes with a spare tube and CO2 to keep you out of trouble. Please allow half an hour for bike collection so we have the time to set you up correctly. We do not offer a refund for any cancellations, or changes of booking dates so please ensure you have selected the correct dates and time. During the duration of hire in the event of weather conditions that do not allow use of the hire item, you understand a refund will not be offered.
Electric Bike Hire 
What a better way to explore Noosa Heads then on an electric bike. Ride along the concrete cycle way down to Coolum Beach straight from our store front. Or take the ferry over to the Noosa North Shore for an adventure. With our rates being the cheapest around take a E-bike for 4 hours including helmet for just $35 and have a blast.